Welfare Payments
There are over 600 government benefit programs at the federal, state, city and county levels. While many programs, such as LIHEAP(Energy Assistance), TANF(Temporary Assistance), and Head Start(Child Care) are funded federally, local benefits are administered at the state level.
Spending highlights for TANF, SNAP, Social Security and Medicare/Medicaid can be found on this page.
How much does TANF Pay?
In FY 2017, combined federal TANF and state maintenance-of-effort (MOE) expenditures and transfers totaled $31.1 billion
Here's a snapshot of how TANF funds were utilized in 2017
22.7% of TANF and MOE funds was used for basic assistance
10.5% was used for work, education, and training activities
16.1% was used for child care (including funds transferred to the Child Care Development Fund)
TANF (Temporary Assistance for Needy Families)
How much does Social Security Pay?
Federal Social Security payments offers assistance for those who qualify by age(65+) or disability. The average 2018 federal welfare payments by month can be seen below.
Social Security Benefits
Month
Total
Aged
Blind and disabled
Under 18

18–64

65 or older
2018
January
551.82
437.15
570.94
656.62
575.42
446.01
February
550.89
436.95
569.87
651.84
575.04
445.96
March
553.43
437.60
572.77
662.24
576.96
446.55
April
552.79
437.38
572.02
660.38
576.19
446.42
May
551.20
437.16
570.25
652.76
575.67
446.35
June
552.87
437.47
572.20
661.91
576.51
446.67
July
551.52
437.34
570.63
655.98
575.68
446.54
August
551.35
437.37
570.50
655.59
576.02
446.54
September
551.63
437.36
570.83
657.69
575.98
446.53
October
551.37
438.40
570.36
649.60
577.26
447.36
November
552.39
437.68
571.77
661.25
577.01
446.81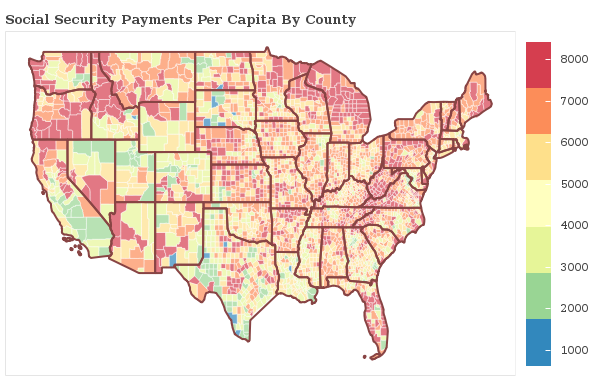 See which states receive the most social security payments.
We breakdown over 3,000 counties nationwide and rank states with the most and least social security payments given to residents.
Social Security Statistics
How much does SNAP Pay?
It depends on how much money you have. The Thrifty Food Plan (TFP) is a model for how much money a household should spend on food. The amount of SNAP benefits you get is the TFP amount for your household minus 30% of your net income. So if you spend 30% of your net income on food, but you still can't spend as much as the TFP says you should, SNAP give you the rest. If you have no net income, you get all of the TFP amount. This is because you can't spend any income on food. For a household of three people, this is usually $511 each month. The TFP amounts are a little higher in Alaska, Hawaii, Guam and the Virgin Islands. This is because it costs a little more to live there.
SNAP (Supplemental Nutrition Assistance Program)
How much did Medicare and Medicaid Spend in 2017?
Medicare spending grew 4.2% to $705.9 billion in 2017, or 20 percent of total health expenditure in the United States
Medicaid spending grew 2.9% to $581.9 billion in 2017, or 17 percent of total health expenditure in the United States
Medicare Spending
How many people received Food Stamps in 2017?
Food stamps are a non-monetary benefit, measured primarily by utilization. 1.6% of Households received food stamps in 2017.
Food Stamps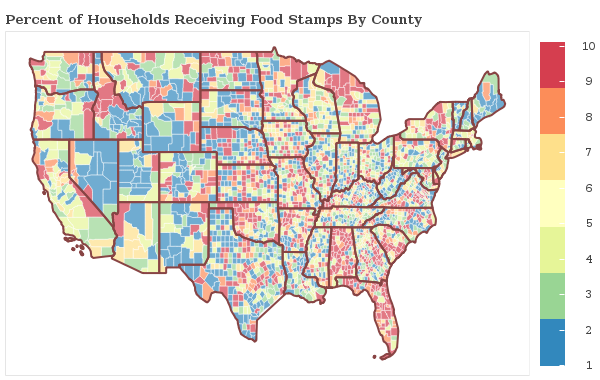 Food Stamps
Which states receive the most food stamp public assistance? We breakdown over 3,000 counties nationwide and rank communities with the most and least food and nutrional supplements given to residents.
Food Stamp Statistics
Food Stamp Benefit Programs
How are Federal Welfare Programs Administered?
Welfare payments are part of welfare benefits are provided by state governments and are regulated by the SRS programs as determined by each state government. Who can receive these welfare benefits is determined by a number of eligibility requirements which include:
If anyone in the household is pregnant.
Household gross income for the month.
If there are migrant or seasonal workers in the home.
How much the rent or mortgage payments are for the household.
How much the utility bills are for the household.
Any other necessary and required living expenses.
Individual gross incomes for each family member.
Actual available cash on hand for the household including checking and savings accounts.
Whether any other benefits are being received in the home.
If there are any disabled or infirmed persons in the home.
If any family members live outside the home.
Any criminal convictions within the home.
Special considerations will also be made for those households caring for expectant mothers.
Welfare payments are generally received once per month, within the first week of each month, although some states may differ.
To apply for and be approved for welfare benefits will take time. The processing time for child care assistance, for example takes 30 days. If you are applying for basic cash assistance you can expect a wait time of 45 days. However if you are applying for food stamps, the turn-around time is only 7 days.
Allowance benefits are determined by a number of factors. States use a basic means test to determine eligibility and the amount welfare payments will be. The needs standard includes food, clothing, recreation, personal incidentals, fuel for heating, cooking and water heating, electricity for refrigeration and lights, household supplies, medical chest supplies and shelter.
Allowance benefits vary in what is paid out to individuals or families for any of the welfare programs. As each state regulates their own SRS programs, payment allowances will vary from state to state based on geography, cost of living and employment/educational opportunities within that state.
However, a basic average guideline for the food stamp program will show that an average family of 4 can expect an amount up to $500 per month for food stamps. This figure will greatly vary based on the age of the family members and medical needs. A single person household will show an expected average of up to $200 per month. Again, these figures are averages and not state specific.
Cash allowance benefits for financial assistance will also be state regulated and allowances paid will also vary based on different criteria. However, an average expectation can be placed on a family of 4 receiving up to $900 for their TANF allowance. A single person household can expect an average of up to $300.
These allowance benefits would be separate from any additional welfare benefits received such as child care, medical or utility assistance.
Even as you look at these welfare amounts, it is not surprising that the current allowance benefits seldom if ever make ends meet for the recipient. The institutionalized program was set up to be an offset measure for those in need, not a complete replacement of income and benefits. The downside to this is that as the economy continues to take a nosedive, so does the available means for those living with minimal income. A family of 4 cannot live on $900 a month. Additionally, criminal activities meant to defraud the SRS program greatly limit the available funds for those who truly need and make the regulations stricter, in some cases too strict, eliminating the benefits for those who truly need it.